/
/
Why driving schools need local SEO
Why driving schools need local SEO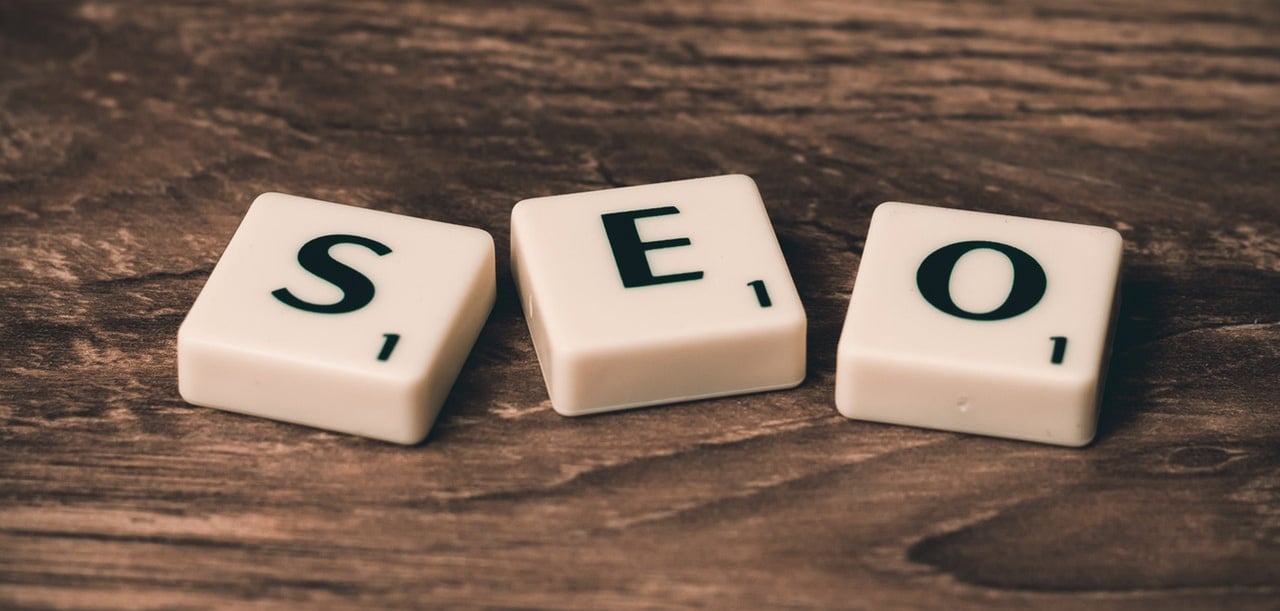 Is your driving school optimized for local searches?
Do you know you might lose hundreds of new students if you keep on ignoring local optimization?
You must be thinking what local SEO is and how it's different from SEO. It's still unknown to many small business owners. Local SEO is a search engine marketing method that helps you optimize your business for local searches. Let's take a look at an example first for your better understanding.
When we searched with "driving schools in Ohio" on Google, we got these results.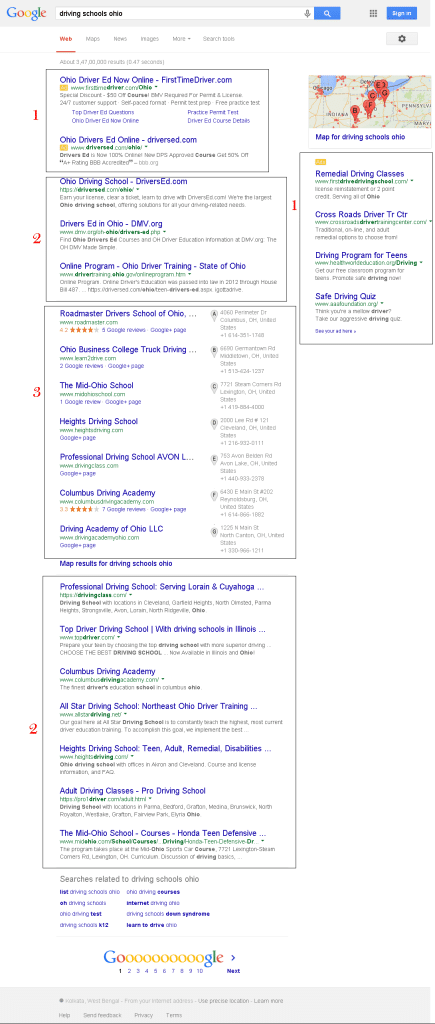 The results marked with 1 are ads. Those tagged with 2 are organic results and those with number 3 are Google map listing. All these three types of results exemplify local SEO for these driving schools.
Why you need local SEO: Any business that has a physical location, must get local SEO. For small businesses, it's a must as they can only outplay the big brothers with these local SEO tactics. Today's internet population starts their online journey with local search and if they don't find you there, they would eventually end up signing up with your competitors.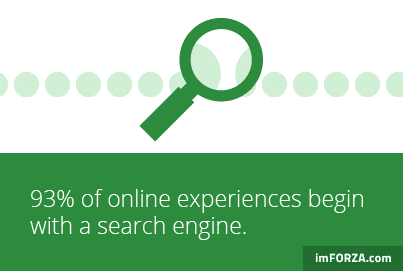 Benefits of Local SEO in search marketing:
It improves your position in SERPs. Web pages that appear with business venue details are more likely to get more visits from searches. It eventually grows your conversion rate. Moreover having a local SEO in place would give you a brand visibility and recognition from Google and other search engines as well.
Look at the graph below to understand how the volume of local searches are increasing over the years.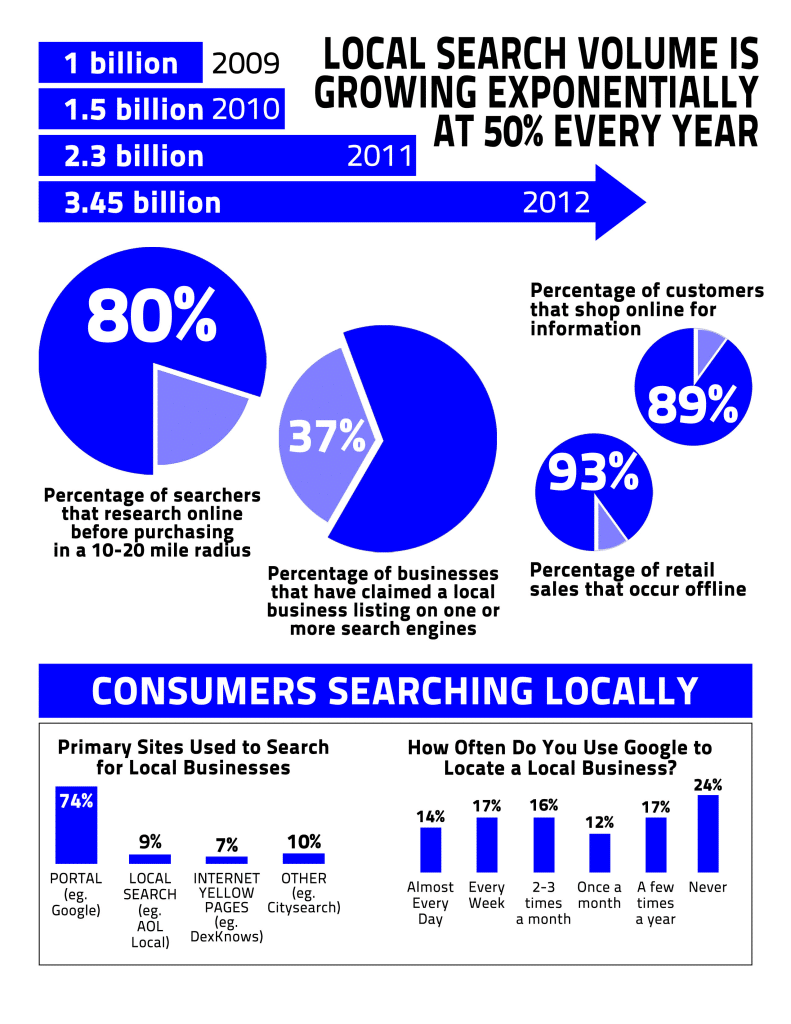 Now the question remains, what you can do to ensure your business is local SEO proof. There are measures to do it. Here are some pointers for your assistance.
How to Local SEO your driving school:
Optimize your site for local SEO: Start with your logo. Logo optimization is very important in local search, as search engines consider the logo first while crawling a site. Make a prominent file name for your logo. For example, instead of logo.png, use a more meaningful title tag like xyz-driving-school.logo. This would give your logo a unique identity. Also make sure the ALT text is appropriate.
Secondly, titles and description of every individual content on your site is important. Here is a local SEO tip for driving schools. Generally a title tag has 70 characters but a local business like driving school must include the name into the title tag to make it more search friendly.
Provide your location details on website: Your website along with every single webpage must be prepared for local searches. Make sure that you include your detailed business address and contact information on every page of your site apart from the 'Contact' page. The best way to do it is, add your address and contact either on header or the footer.
Add a map of your business venue on your site. It's now very easy to add and embed a Google map on your contact page. Moreover, it gives a very strong local signal to search engines.
Focus on local keywords: Don't go with general keywords. They are broad keywords and would not show you any result on SERP. Instead try narrow local keywords so that your web pages appear when your audience searches with these keywords.
For example, instead of 'driving school in New York', you should focus on 'driving school in Manhattan'. One of the reasons is, the competition is pretty low with local and niche keywords compared to broad ones. And your content reaches to the exact people, who are living in the area and looking for a local solution to their query.
Register to directories: Register your driving school with search engine business directories such as Google Places, Yahoo! Localworks, and Bing Places for Business. Apart from that, there are local directories. There are hundreds of local directories that would let you add your driving school address, but we would recommend you to go slow and choose only the ones that are worth your time.
Go for a G+ business page: Get a Google Plus business page now, if you don't have one already. Being a member of Google family, it always gets an added advantage on search engine results. But make sure you provide the detailed contact information on your G+ page.
Apart from that, Google prioritizes business with reviews and Google Plus is an ideal platform to get these reviews and ratings from your students. You can always ask your students, who have gotten their driving license successfully to rate your school on your G+ page. This would also enhance your Google Plus authority.
Use structured data markup: This is a bit technical but every driving school must implement it for local search improvement. Once you login to the webmasters tools, trace 'Additional Tools'. You can find 'Structured Data Markup helper' tool under it.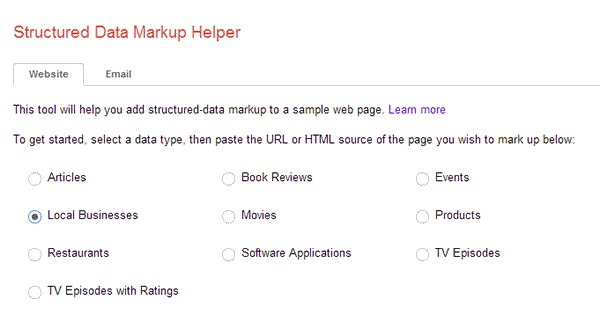 Use the 'Local Business' option to tell Google more about your business there. Once you do it, the tool saves your information in a file at schema.org. All you need to do is, download the file and add to your site.
Be sure of social media listings: Social networks like Google Plus, Facebook, FourSquare, Yelp send strong signals to search engines. Be sure to provide your full address and contact details with these social networks. Google considers social networks as any other web pages. Ask for ratings and reviews from your students on these pages, so they get more exposure on SERP.
Over to you: It's your turn now. Start optimizing your driving school for local searches to get maximum queries from your target audience today.
The following two tabs change content below.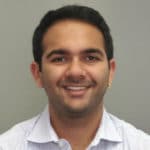 Josh Meah
Josh is the CEO of DrivingSchool.Marketing. His goal is to be the marketing and business development partner of driving schools around the world, helping them become thriving businesses while also expanding general awareness for the importance of traffic safety standards and education.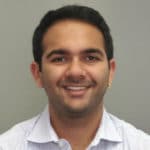 Latest posts by Josh Meah (see all)