Proven Driving School Marketing Ideas To Grow Your Business.
Why do you need keyword focused marketing
Do you focus on keywords in your online marketing efforts?
Do you know a keyword focused marketing can give you more conversions?
You might have heard that keyword focused marketing is now dead. We don't say that. Keywords will be alive till people search on the web, be it Google or Facebook; Bing or LinkedIn. However, search engines started looking at keywords with a different angle. Initially, there was keyword stuffing. Search engine optimizers used to stuff their content with keywords without considering the user experience. But now it's all about how smoothly you add a keyword and how enhanced your reader experience turns out to be.
Wondering how it's different from yesteryears?
CoSchedule sorted the puzzle with the easiest way possible.

We will take you through the complete journey step by step.
How people search on search engines like Google: Your potential customers search about your business on Google, Bing, Yahoo. If your marketing strategy does not consider the related queries that your users might search with, you would lose plenty of leads, eventually customers.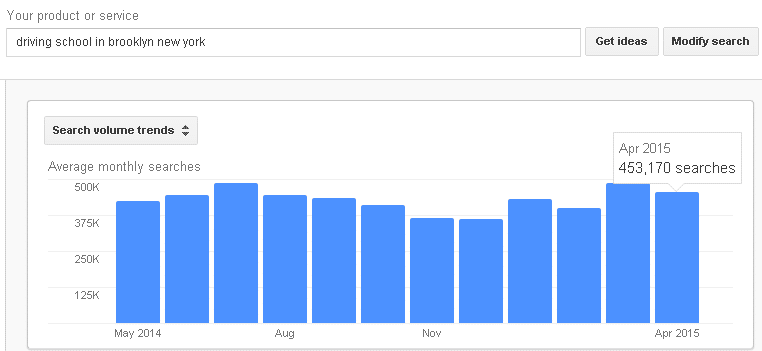 This screen shot from Google Keyword Planner shows that more than 4 million people searched for "Driving school in Brooklyn, New York" in the month of May. And this is not the end. If you dig deeper, you will find that there are hundreds of related keywords that your future customers search with.
To sustain in the competition against other driving schools, you need to focus on all the related keywords. This is Google, now let's see how your customers search on social media. There are two factors to consider: Social media readiness and Social media reviews.
For example, when your customers search on Facebook with your business keyword, they look at the top results and ratings.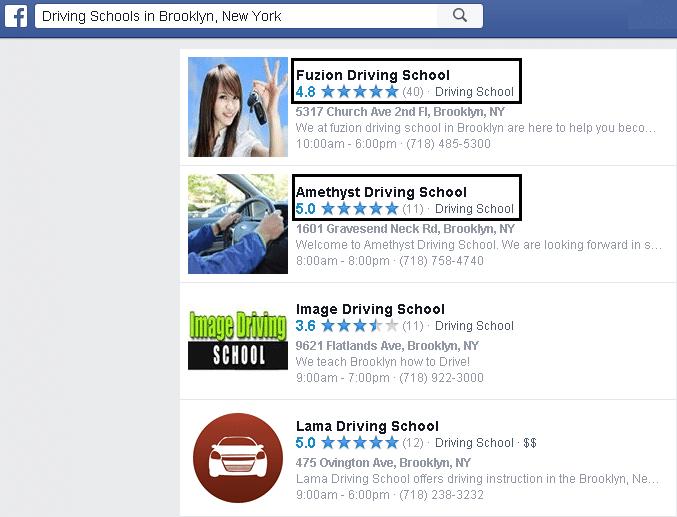 If your social media profiles are not optimized for these searches, chances are very less that your driving school would appear on the search page, let alone the top positions.
How to run keyword focused campaigns online:
Identify keywords: First of all, you need to identify the most important keywords for your business. If you successfully do it, half the job is done. Google Adwords is the best tool to do it.
Start with each keyword that comes into your mind while thinking of your business and search with each one of them to get an idea of the search terms.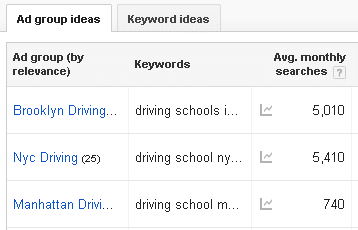 In each category, you will find sub-groups.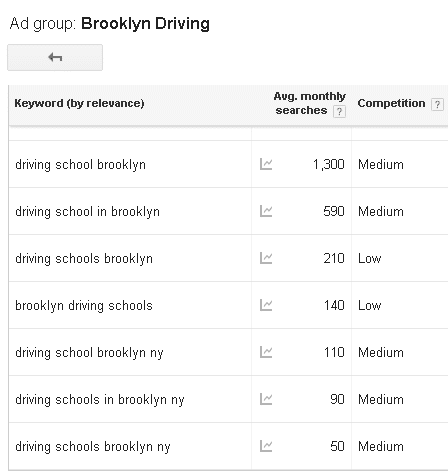 Click each one of them to know more. Finally jot down all the keywords. They are your main keywords that you need to work on and include in your content pieces.
Create calendar with focused keywords: Once you are aware of the keywords that you have to focus on your marketing, you need to create a calendar, to make sure every keyword is covered.
Content calendar includes website content, blog posts and social media updates. When you will decide a blog post title on the calendar, you can mention the focused keywords as a reminder. Similarly mention the focused keywords for each website content and social media updates.
Incorporate keywords: Now you are all set to create content with those keywords. Since you have the content calendar ready with you, it will help you remind of the associated keyword with each content piece.
However, according to the latest Google guidelines, you must not overdo with the keywords in your content. So, always try incorporating them naturally without interrupting the natural cadence. Long tail keywords is a better idea to go about.
Optimize for SEO: Once you are done with content creation, it's time to make them ready for search engines. There are a number of elements that you need to take care of in this category. Look at the image below.

The first highlighted area indicated the Title Tag of your content. This is the area that appears in bold, when your audience search on Google. You must include the focused keyword in this section. Take reference from the calendar.
The second highlighted area is the description part. It includes the summary of the content. If a searcher wants to know what the page is all about, he would look at this part. So, incorporating the main keywords is also a must here.
Distribute content with keywords: You have taken care of the search engine part, now let's move on to social media. Yes, keywords are important for social media marketing as well. In most of the sites, you can include the keywords in descriptions. However, hashtags also play a crucial role here.
While posting on Facebook, make sure you have all the keywords in the heading and description parts. Sometimes, it's seen that Facebook does not fetch the required details from a link. You can edit or include the keywords manually, if it happens with you. Here is how to do it.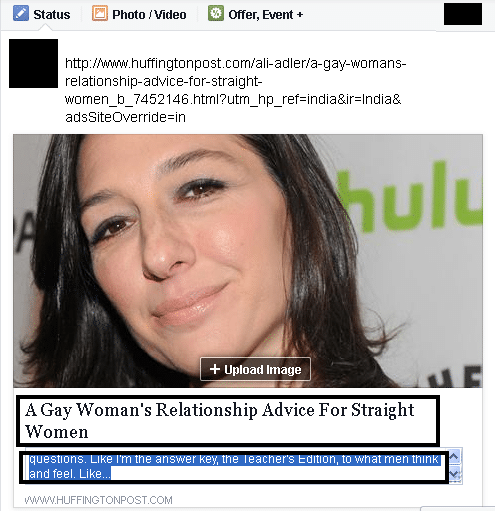 All the highlighted area are editable. Once you click on these areas, Facebook will let you edit these portions with your own words. Include your keywords carefully here.
Conclusion: Hope we have made you understand the importance of having a keyword focused approach in digital marketing. Are you doing it right? Let us know.
The following two tabs change content below.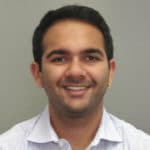 Josh Meah
Josh is the CEO of DrivingSchool.Marketing. His goal is to be the marketing and business development partner of driving schools around the world, helping them become thriving businesses while also expanding general awareness for the importance of traffic safety standards and education.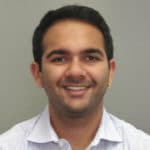 Latest posts by Josh Meah (see all)
Copyright 2020 All Rights Reserved. All digital marketing services are managed by JoshMeah.com